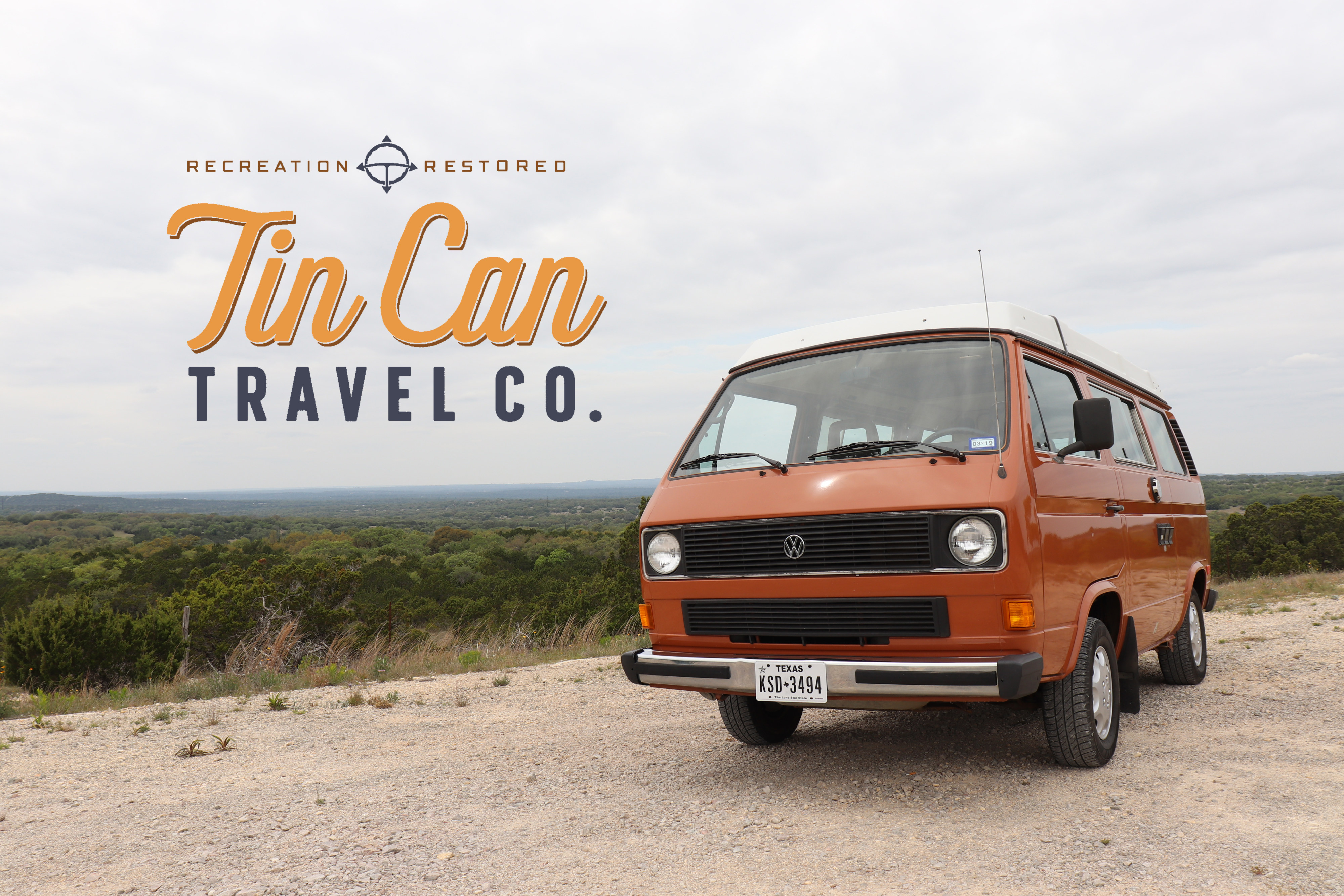 5
Miembro de Outdoorsy
Anfitrión desde octubre de 2017
---
---
Índice de respuesta del 75%
Suele responder en un día
Acerca de Tin Can Travel
My name is David and I am the owner of Tin Can Travel. We are located in Austin, Texas and provide classic camper vans to explore every amazing nook and cranny of Texas. Our fleet is meticulously maintained and cared for so that you can create your own adventure.
5
Miembro de Outdoorsy
Anfitrión desde octubre de 2017
---
---
Índice de respuesta del 75%
Suele responder en un día
---
1 caravana disponible para alquilar
Recuerdos de viajes con las caravanas de Tin Can Travel
---
Teryn L.
5•octubre de 2022
We had the absolute best experience with Tin Can Travel Co. The van was exactly as pictured and ran perfectly. The owner was super responsive, helpful and so kind. We will definitely be renting this van again soon!
Absolutely fantastic! David (of Tin Can Travel) was extremely accommodating to my plans, and things couldn't have gone more smoothly getting picked up at the airport and meeting for drop off at my hotel. Great communication and instruction regarding all the vehicle's features. The rig itself is amazing and is outfitted with everything you might need - solar power, propane, water, camp chairs, bug spray, paper towels, broom - you name it! Can't recommend this vehicle or Tin Can Travel enough - and can't wait to get back to Texas and out in this VW again!
5 fotos enviadas por Mandi G.
Michael H.
5•noviembre de 2021
David and his van were awesome! Having driven plenty of Westfalias in the past, you can tell this Van was extremely well maintained. We had absolutely no issues on the road, and the small touches David included in the Van really made the trip. Having solar power on the van is an amazing touch given the amount of dry camping possible in Texas. I couldn't recommend this van enough to anyone looking to hit the road for a slow stroll around Texas with some beautiful stops along the way.
Lauralea D.
5•octubre de 2021
Everything was wonderful! David was real nice. I would recommend renting in the fall or summer so that you're most comfortable since the air conditioner isn't super powerful.
4 fotos enviadas por Lauralea D.
Kenneth J.
5•agosto de 2021
Had a fantastic trip with the family to the coast with this vanagon. The host was super helpful, accommodating and a pleasure to work with. 1000 stars.
Absolute best experience! Vanagon drove like a champ and was fully decked with water, propane, and even pots and pans. I packed too much! Boy and doggo were extremely comfortable. Will be renting again.
1 foto enviadas por Kim P.
Super accommodating, definitely renting again!
Tin Can Travel canceled the booking 1 day before departure. This is an automated posting.
Great little van. Feels like you're transported back into the 80's. Our 7 year old had a great time hanging in the pop-up area. Comes with a sink and propane stove. Just a heads-up there's no A/C (no problem for us in the spring). Chris was very responsive and throughout in how to work the van. We'll rent again!
1 foto enviadas por Kevin P.
Took the vanagon to Big Bend National Park, and it was great on the long drive! There were no issues at all, it was a blast!
3 fotos enviadas por Will M.
Megan S.
4•noviembre de 2020
I drove to Palo Duro State Park and this campervan got me there like a champ! It was fun to live my vanlife dreams for a few days, figuring out all the storage and convertible features in the van and setting everything up just so. Being able to cook on the stove and use a refrigerator were real perks, and the bed was cozy and comfortable. I also really enjoyed being able to bring along some old mixtapes and listen to them for the first time in years. Be prepared for some interior noise and to cruise in the slower highway lane, but overall the van was very reliable, practical, and fun to drive.
What an incredible experience. David at Tin Can was so accommodating and friendly. The van was so great. Immaculate and worked really well. Such a special vehicle. Only wish I had more time with it.
We had a great time in the van! It's well fitted out and comfortable to drive.
This is great little van. We had a blast driving it across TX. David is very responsive and has taken a great care of the vehicle. When you rent this van be prepared for random compliments from strangers on how cool and awesome the van is.
1 foto enviadas por Nina B.
Winter W.
5•septiembre de 2020
David was incredibly helpful and the van was SO much fun to drive. Will definitely be renting from Tin Can Travel again!