You may be tempted to overlook small campers when searching for the perfect adventure RV. After all, there's simply not enough room for all the great amenities that a larger camper or motorhome can offer.
But not so fast!
You'd be surprised what can fit in even the smallest of rigs. Dining rooms, small kitchens, queen-sized beds, and bathrooms— yes, even bathrooms!
Don't believe us? Check out these 10 small campers with bathrooms.
1. Scamp 13′ Deluxe
The Scamp Deluxe is the smallest trailer on our list, coming in at only 13′ long. But with a wet bath nestled inside the camper, you won't have to worry about using a park's community amenities when it comes to doing your business and getting clean.
2. 16′ Casita Deluxe Spirit
Casita is a well-known name in the fiberglass trailer community, even going so far as to garner a small cult following. One of their smallest models, the Deluxe Spirit, offers an onboard toilet and shower.
3. Airstream Bambi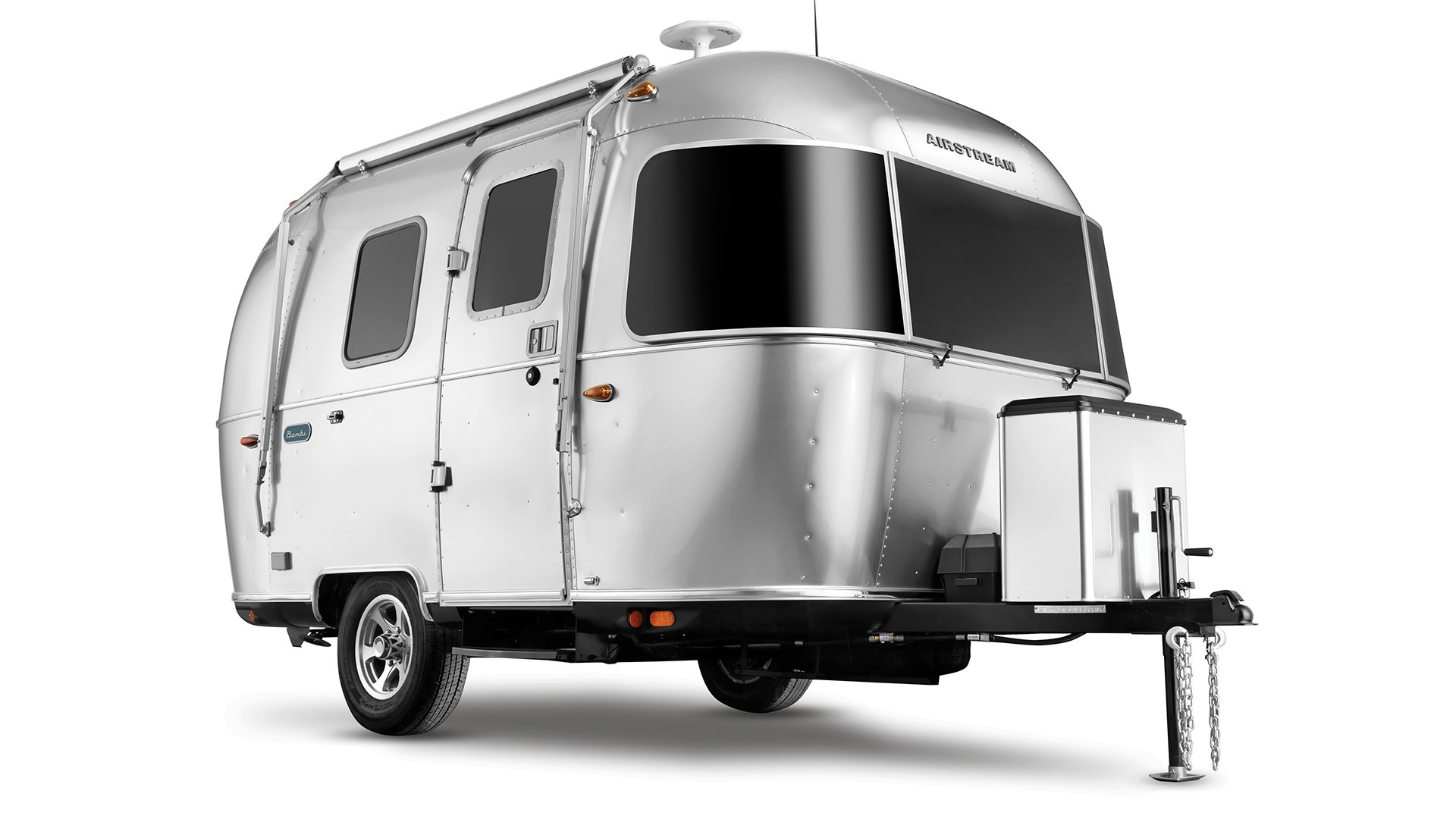 Nothing is more iconic than the futuristic aluminum exterior of Airstream trailers. One of the smallest models that the brand offers is the Bambi, which ranges from 16′ to 22′, depending on the floor plan. Even though she's tiny, you'll get a full dry bath with this model.
4. Airstream Basecamp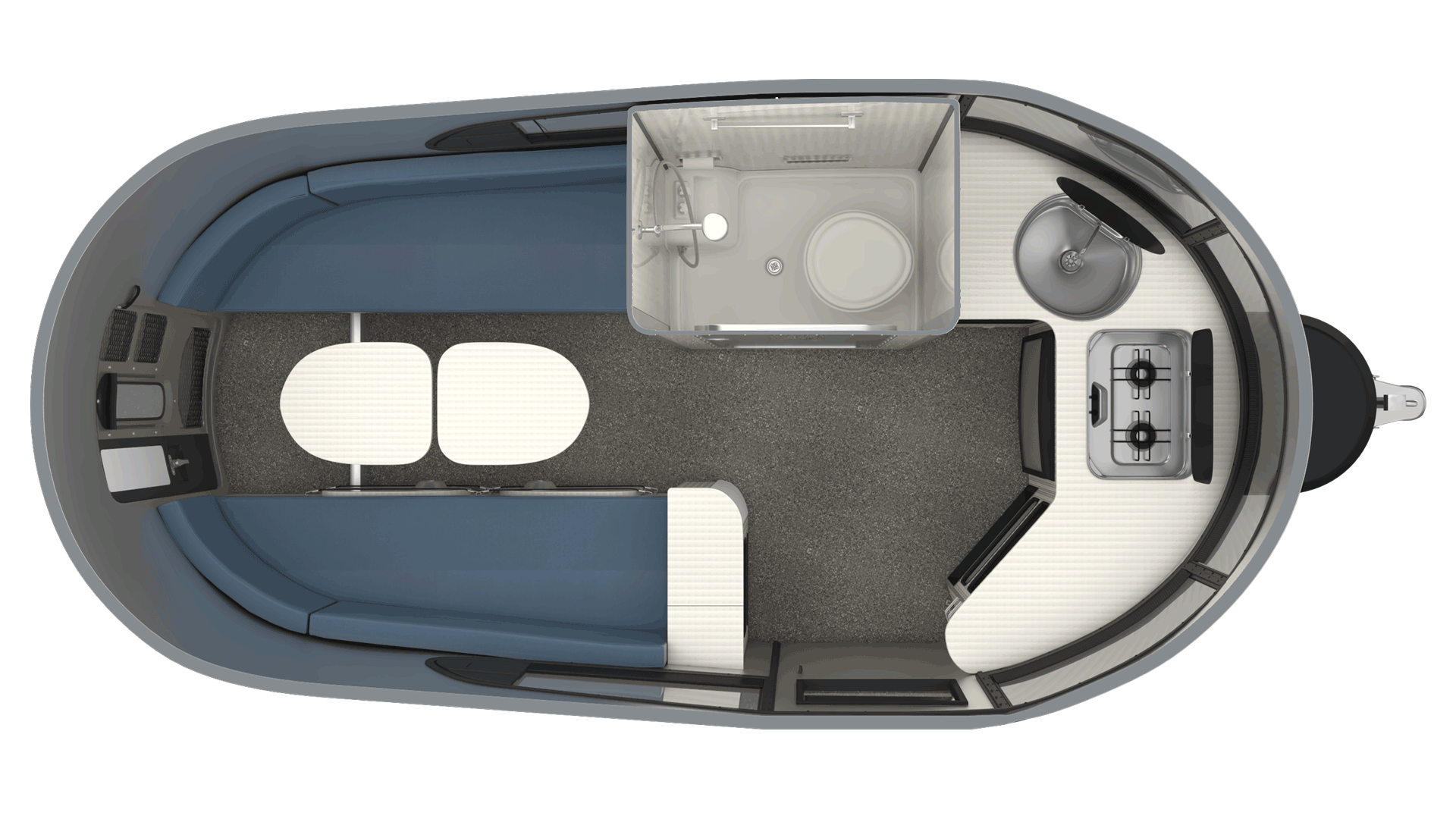 Looking for Airstream quality with a more rugged look? The 2021 Basecamp has stripped down camper life to just the basics, but it has everything you need: a kitchen, a convertible lounge, and a wet bath.
5. Forest River R-Pod
There are a plethora of floor plans to choose from with the Forest River R-Pod that offer both wet and dry baths. For example, the model pictured above is the RP-180 floor plan, which includes a spacious dry bath and sink area.
6. Winnebago Micro Mini
Winnebago is one of the most recognized names in RVs and has been giving customers what they want most for decades. Described as the compact camper without compromise, the small Winnebago Micro Mini sleeps three and comes with a kitchen, dinette, and bathroom. It may not have all the bells and whistles of their larger models, but it has everything you need.
7. nuCamp's TAB S Teardrop Camper
Yep, even teardrop campers can fit a small bathroom area. The nuCamp TAB's genius design allows their tiny TAB S trailer to pack all of the necessary amenities. You'll find a wet bath and cassette toilet in this rig.
8. Venture RV's Sonic Lite
Venture RV's Sonic Lite is one of the bigger small campers on this list. At 22′ long, this camper can sleep up to 6 people with a full-sized bed, double bunk, and a convertible dinette. In the dry bath, you'll find a separate 34″ shower, a toilet, and bathroom sink area.
9. Happier Camper Traveler
This all-new design from Happier Camper gives campers a semi-modular interior that is fully equipped for cross-country travel. And yes, that includes a full bathroom! Happier Camper prides itself on creating campers that can be towed by almost any standard car or SUV, making this 17-footer an excellent choice for anyone.
10. Escape 17B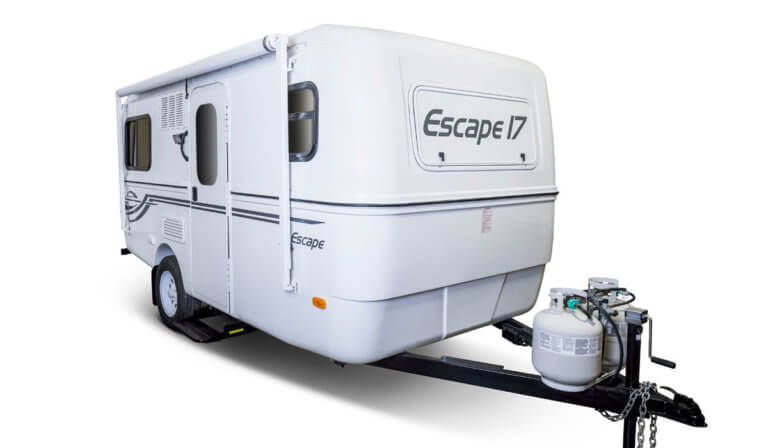 There's no better way to travel on your vacation getaway than in an Escape. The 17B is Escape's 17′ trailer that can sleep up to four people. Like Happier Camper, Escape believes that you don't need a truck to tow a camper. So they've put everything you'd need in a rig that can be towed by an array of vehicles. When you're looking, make sure you specify the 17B; the 17A doesn't come with a bathroom.
Get on the Road
Don't discount small campers! Though you'll be in tighter quarters than a 40′ long trailer, they often have just as much to offer, including bathrooms – and they're much easier to fit into tight campsites. When picking out an RV to rent or buy, sometimes all you need is a cozy home on wheels to come back to at the end of the day.